« Back
Masks: Using wrong, harm themselves
Facemasks are haunting things for many people. However, if you do not know how to use, they can also be harmful to health.
On the market today there are many types of masks, from fabric to conventional medical masks, activated carbon masks and masks to all the dedicated. Recently, on a number of newspapers published pictures surprising as there is a conference of more than 1,000 scientists in South Korea had only sporadic though few people wear masks MERS-CoV epidemic circulation. So is the mask can help prevent diseases transmitted through the respiratory tract?
Facemasks conventional fabric sewn from two layers of fabric. It only prevents the part droplets should have very little value in preventing disease transmission via the respiratory tract. Mainly we masks prevent the inhalation of dust, smoke, while walking the streets.
Medical masks, also known as surgical masks, though slim, but are usually made of 3 layers of non-woven fabric and sterilized thoroughly. These masks are usually folds and a lead rod tight-fitting masks help wearers face. Medical masks can prevent most of the droplets should be able to help us prevent many diseases transmitted by droplets but not prevent airborne transmission.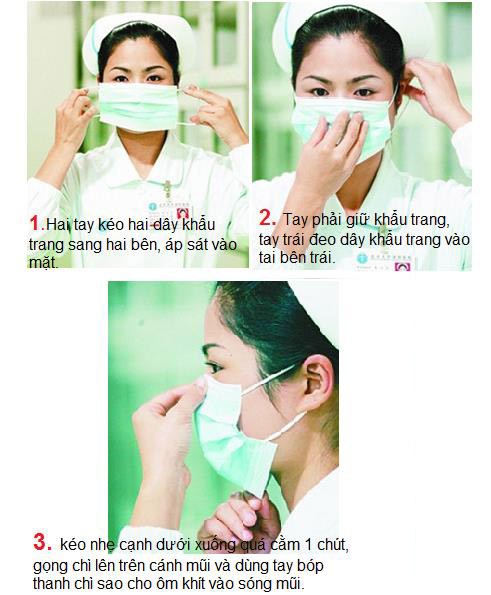 How to wear medical masks properly.
Activated carbon masks like surgical masks, but the middle class more impregnated activated carbon. Manufacturers often advertise the features preventing harmful emissions and their bacteria, but in fact no studies prove their superior prophylactic versus surgical masks, though that price both of them much higher.
N95 masks are masks with special structure, not only prevent droplet but also prevent up to 95% of the droplets and air personnel. As a result of our ability to prevent disease many times higher.
How to properly use?

Due to the characteristics and capabilities of each type of preventative different masks, so the use of masks in patient rooms should fit
Cloth masks only work rooms smoke, dust, not used to prevent spread of disease through the respiratory tract.
Medical masks help protect the healthy, prevent diseases transmitted by droplets but not prevent diseases transmitted by air. Medical masks are recommended for everyone to wear while in the hospital waiting room, when exposed, patient care for a period not too long.
Need to note that when worn to the edge can lead to the upper bar nose. Use your fingers to squeeze into tight-fitting pencil stick his nose, then you pull the mask to hug tightly sticky mouth and chin. Remember that masks made of non-woven fabric should be used only once, if washing away the fibers used to be disproportion they will no longer work for prevention.
N95 masks to help prevent the disease transmitted through droplets and through the air. It is indicated for the medical staff to direct care, in close contact with patients with infectious diseases through the air during a longer time period.
Patients wearing surgical masks may limit spread droplets while talking, coughing slightly, reducing the risk of transmitting the disease to others. But if the patient sneezes or coughs strong, powerful airflow from the nose, mouth out strong patient can make face masks do not stick to the patient and create a way out for the droplets out.
Moreover, many patients with dyspnea, respiratory failure should not be wearing a mask. CDC recommends patients coughing, sneezing should cover the nose and mouth with a tissue and then immediately dispose in the trash.
The dire note when using the outer mask where the mask is soiled by droplets, droplet should not touch the outer surface of the mask. No peeling and wearing masks back pocket as this may stain clothing bag, pocket or wear suede side towards the nose dirty mouth wearers.
N95 masks and surgical masks disposable, not reusable cleaning. Also remember to wash your hands often with soap or antiseptic to prevent disease transmission through soiled hands.
According to Dr. Nguyen Trung Cap / Health Life